21st Annual Heartwood Reunion
Heartwood Reunion
21st Annual • 2016
YOU'RE INVITED!
Please join Heartwood on October 7th-9th for our 21st Annual Heartwood Reunion!  The Heartwood Reunion is a chance for activists from across the Heartwood region to reconnect with old friends and meet new ones, through a weekend of great food, music, dancing, workshops, celebration, and action!
 The 2016 Heartwood Reunion will take place at the Lazy Black Bear in Paoli, Indiana–a magical retreat at the end of a dead end road in the middle of the Hoosier National Forest.  The farmstead has been the host for many Permaculture and activist gatherings, and a center of earth-based living for more than 26 years of Heartwood's history.
You don't have to be a Heartwood member to attend!  The Reunion is the perfect place to get more familiar with the Heartwood family and the work that we do. This year, for the first time ever, we are offering a 2-for-1 registration for first-time attendees!  That means that two new people can attend for the price of one registration!  That also means that folks who have attended Heartwood events in the past can bring a friend for free!  In addition to our 2-for-1 registration, we are expanding our work-trade opportunities.  We are specifically looking for help with set up before the Reunion, cooking throughout the weekend, and clean up afterwards.  If you are interested in work-trade, email Myke Luurtsema at michael.luurtsema@gmail.com. The 2-for-1 registration and work-trade deals are only available to those who pre-register by September 30th!
The keynote speaker on Friday night will be Kevin Tungesvick, of the Heart of the River Coalition.
Kevin played a critical role in the campaign to defeat a proposed dam on the West Fork White River in Anderson, Indiana.  His talk will discuss the unique ecological areas threatened by the proposed and dam and reservoir, as well as the successful grassroots campaign that defeated the project.  Kevin is an expert botanist and engaging speaker, and we are thrilled to have him for the Reunion!
We are excited to announce that, for the first time in many years, there will be a post-Reunion ACTION!  On the afternoon of Sunday, October 9th, there will be a creative, theatrical demonstration that will call attention to the rampant logging of Indiana's state forests.  We don't want to give away too many details and spoil the surprise, but if you happen to have an animal costume in your activist tool box you might want to consider bringing that with you this year.
As a reminder, the Lazy Black Bear is a FRAGRANCE-FREE ZONE!  That means no scented lotions, laundry products, perfumes, hair care, etc. (For example, some people wash their clothes with plain Borax and baking soda before packing.) We also ask that you make other accommodations for your animal companions, as there are already an abundance and variety of animals that call this place Home. Thanks for your cooperation!
Event Location
Lazy Black Bear Lodge
3875 S County Rd 50 W
Paola, IN  47454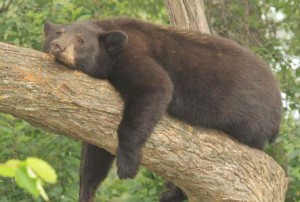 Directions
Heartwood Reunion Location
Paoli is 50 miles south of Bloomington on Highway 37 and 50 miles west of Louisville, Kentucky, on US Highway 150.
From Paoli: Go 2.5 miles south on Highway 37. At the first crossroads (watch for a brown and white sign that says: Hoosier National Forest Youngs Creek Horse Trail), turn right on CR 250 S.
After you turn on C.R. 250 S: Go west 1 mile. Watch for another horse trail sign. Turn left (south) on County Road 50 W; go past the horse camp (one and a half miles). Go straight through the open gate to the Lazy Black Bear.
From I-64: Take Highway 37 North exit to English. Go 13 miles past English. Watch for a brown and white sign that says: Hoosier National Forest Youngs Creek Horse Trail. Turn left on CR 250 S (look for blue & white mile-marker 52) then follow directions above.

The map above shows the location of this year's Reunion. You can scroll around by clicking and dragging in the map. You can zoom in or out using the the [+] and [-] in a corner of the map.
---